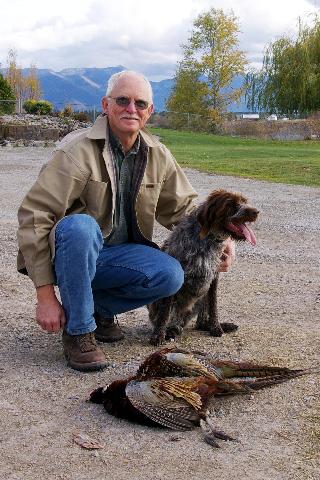 Welcome to Willow Creek Griffons Home Page
Petra and Cash have just finished their conjugal visit. I anticipate a litter from their union during the second week of January 2014
Petra is a 2-1/2 year old griff with a wonderful temperament and an outstanding hunting instinct. Cash is also 2 years old. Petra and Cash are both 23 inches tall at the shoulder. Petra has a fairly soft liver and gray coat with lots of furnishings around the face. Cash has a more wiry and mostly gray coat and completes his classic griff look with abundant facial furnishings. Petra weighs 58 pounds and Cash weighs 61 pounds.
Reserve your pup now for an early March 2014 delivery. Call or email using the contact information on the right side of this page, and we can discuss your eligibility for one of these great griff pups.

Check out the photos of Petra and Cash on the tab above.

Petra's hips have been certified by OFA as good. Cash has a PennHip certification. Both Petra and Cash are registered wire haired pointing griffons with NAVHDA and AKC
Petra's (Willow Creek Petra) pedigree can be viewed at www.herrenhausensportingdogs.com

Cash's (Ear Mountain's Testament to Johnny Cash) pedigree can also be viewed at www.herrenhausensportingdogs.com